Visiting a small town called Ascona on Lake Maggiore I was reminded of a politician who had stood as the candidate for a northern town that he knew nothing about, but felt it would be good experience. Winning against all the odds and celebrating with his supporters, he punched the air and said, 'And to think I'd never even heard of this town a month ago!' When their faces all fell a mile, he instantly realised what a faux pas he's made and quickly added, 'But from now on I'm going to see that there's no one in the country who hasn't heard of it!'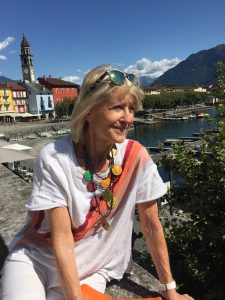 'What about a trip to one of the Italian lakes,' my husband Michael said, always keen on a mini jaunt, 'Somewhere like Lake Maggiore?' I wasn't altogether sure what we'd find, but did some research and discovered that a bit of Lake Maggiore was in Switzerland and the flights to Zurich were reasonable. I'm a quarter Swiss, too. That settled it.
Ascona looked charming and, like the MP, we'd never heard of the place before. It nestles under the Alps, is in touching distance of Italy – though proudly described by anyone Swiss as 'The St Tropez of Switzerland" – and was new ground. It was also Italian ice creams, Swiss chocolate and the peaceful beauty of a vast glistening lake. We chose a hotel that was right on the lake, hoping that it would still be sunny in September.
On our first day the temperature was 28%; sunbathing by the Romantik Hotel's heated pool, pizzas on the lakeside piazza, meandering round the cluster of enticing art galleries in hidden back alleys, we felt that Ascona should be written up in lights.
The train journey from Zurich to nearby Locarno (more about historic Locarno later) involves a change, but there are lakes and forested mountains, picturesque cows, the scenery is magnificent. Gazing out at immaculate villages and fields I decided that there could be no cleaner, neater, greener, country than Switzerland, anywhere in the world.
The Romantik Hotel Castello Seeschloss – part of which dates back to medieval times – was similarly spotless. Family owned over three generations and with modern rooms as well as those like ours, which was at the top of a fourteenth century tower (with a lift) the hotel had all mod cons and gorgeous fresh roses too, all the romance anyone could wish for.
You're met off the train by one of the owners or staff who have answers to any questions – except where to find a bar likely to be showing a Liverpool V Man City football match! Amazingly the Bar Centro, a short stroll up from the lakeside piazza, was tuned to football and happened to be showing the match. It was the only day that it rained conveniently and the snack lunch we had was unbeatable. Hot light crispy mozzarella and pommodore paninis, quality cappuccinos, and the bill would have brought a smile to the face of any backpacker on a tight budget. Pity about the result…
Over five days we had a couple of a la carte feasts courtesy of chef Riccardo Scamarcio, at the hotel's Ristorante al Lago. In the hotel we sat at tables round a sweet open-air courtyard having osso buco, superb pike and Italian specialities, dreamy desserts and ices.
Spending long lazy hours communing with the lake put me in mind of Matthew Parris writing about being out in the beautiful wilds of Zimbabwe and feeling as mindless as he imagined a baboon on a nearby rock must feel.
With no baboons to wonder about in Ascona and the area of Ticino a great place for walking and hiking we set off to walk to Locarno. It is a good hour's walk and on a hot day took half an hour longer. We were ready for lunch by then and happened on the most splendidly large and beautiful old cobbled piazza, rather as you can come upon in Venice, with a tempting array of restaurants outside in the square. Choosing one at random and served by a very old waiter, who looked like one of those black-aproned pros at the grandest French brasseries, he took his time, busying around piling at least fifteen table-loads of detritus onto a single tray, but catching our impatient eye, dumped down his towering tray and was soon whizzing out a vast, light-as-air pizza to share: buffalo mozzarella, olives, roasted vegetables, along with a crisp green salad and glasses of cold wine. A chocolate mousse that came with two spoons was the frothiest, most delicious concoction ever to be so prosaically named.
The only thing the waiter failed on were understandable directions to the funicular station, but we discovered the delights of old Locarno at least, trailing up some very hilly backstreets before finding it.
The city of Locarno stretches far up the mountainside and the cable car stops to let out residents returning home with their shopping. From the top the view of the city far below is sublime. And it isn't even the summit. A chairlift takes you onward, a double-seated affair that barely slows down as it swings by. It was a bit hairy, swinging onward in the chilly high-altitude air. Honey brown cows with horns and tinkling bells graze on the steep slopes below and finally reaching the summit you can see virtually the entire length of Lake Maggiore. It looked mirage-like in its ethereal, ever-distant beauty, weaving a shimmering sinuous path through the mountains, far on down into Italy. 40 miles long, it is the largest lake in Italy, certainly Switzerland too.
Stop for a cup of tea at the Café Funicular before the cable car return; it was warm in the evening sun when we were there with church bells ringing out harmoniously from a graceful tower below. Whether we walked all the way back to Ascona was up for discussion, but the bus won. Ticino issues its tourists with a ticket that allows free travel on public transport and a 30% discount at many attractions including boat trips on the lake. It was a huge bonus and softened the cost of eating out, which is a bit steep.
A boat trip was next on the list, though having arrived on a Wednesday we had missed the day of Lunio market. That was sad, since the Italian town further down the lake is a lovely place to visit by boat.
We took a boat instead to Brissago, which stops at the two tiny Brissago islands; the larger one has a restaurant and is famous for its exceptional botanical gardens, home to about fifteen thousand plant species.
Ascona and Lake Maggiore gave us a glorious few days' break. Where else could you gaze out on pines and palms, as we did at the Romantik Hotel, and from a boat out the water look back to see Switzerland's snow-capped Alps?
Milan is only an hour and a half away by car, but of all the lures, just to sit and gaze at the still, calming, silvery Lake Maggiore would be very hard to beat.
I was a guest of Inghams, who offer seven-night stays in Ascona, on a half board basis at the four-star Romantik Hotel Castello Seeschloss, from £1,159 per person. Price includes return flights and airport transfers by rail. To book, visit www.inghams.co.uk/lakes-mountains-holidays or call 01483 494 826.